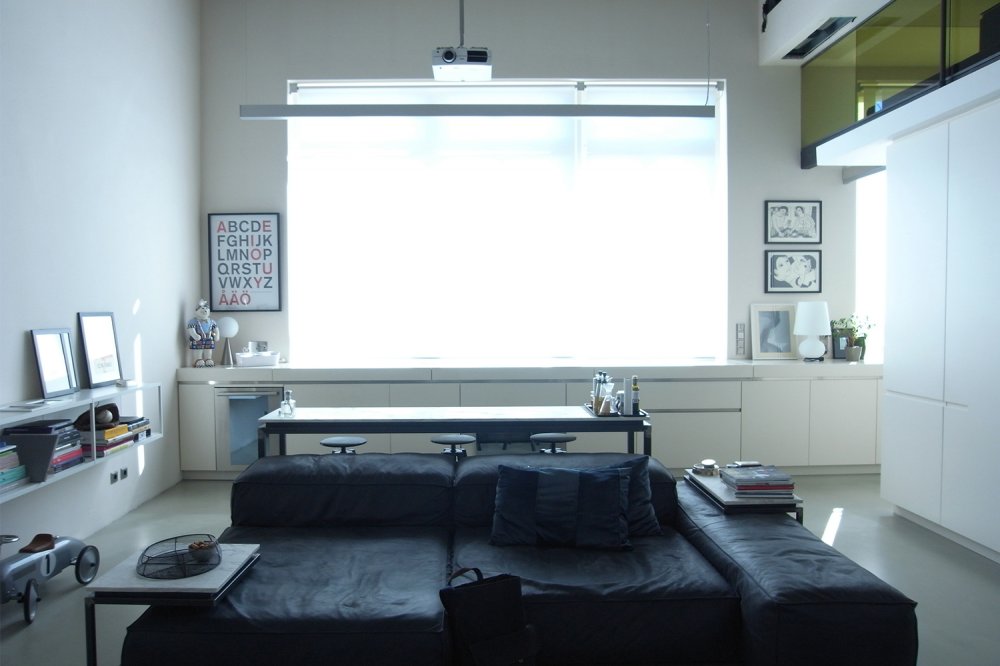 TOWER LOFT
Loft Renovation
130 s.q. m.
Part of restoration works of a 1920's manufactory building. The unit covers a total surface of 140 sqm on three levels, plus 85 sqm of roof terrace.
The project starts from the preservation of the existing bearing structure, made of reinforced concrete pillars, beams and cast-on-site floorings with un-plastered ceiling surfaces. Flooring is made with epoxy resin with cement-like look, matt transparent wax finished. Vertical partitions and false ceilings are made of gypsum board on aluminum structure. Other surfaces are made of Vanceva green musk color glass, laminated with pvb film, to allow a uniform light diffusion to the bedroom at mezzanine level.
Staircase structure is made of welded, burnished and wax finished steel. All sliding doors are made of white lacquered timbered wood. Screen rolls in technical off- white fabric are used to filter the direct light entering from all windows. Fitted Cupboards and other free standing units are made with lacquered MDF. A bespoke Linear kitchen counter acting as a furnished window, made of white lacquered MDF, is hiding a secret Kitchen unit with inner top made in Corian, hinged lid panelling and suspended elements are also made in lacquered MDF and HPL. The bespoke master-bed is in black lacquered MDF. Table's structure is made in welded steel topped with white Carrara marble. Black leather soft and comfortable sofa by B&B Italia. A large secret drawer unit, suspended from the concrete ceilings, completes the volume of the bedroom at the mezzanine and intermediate level.