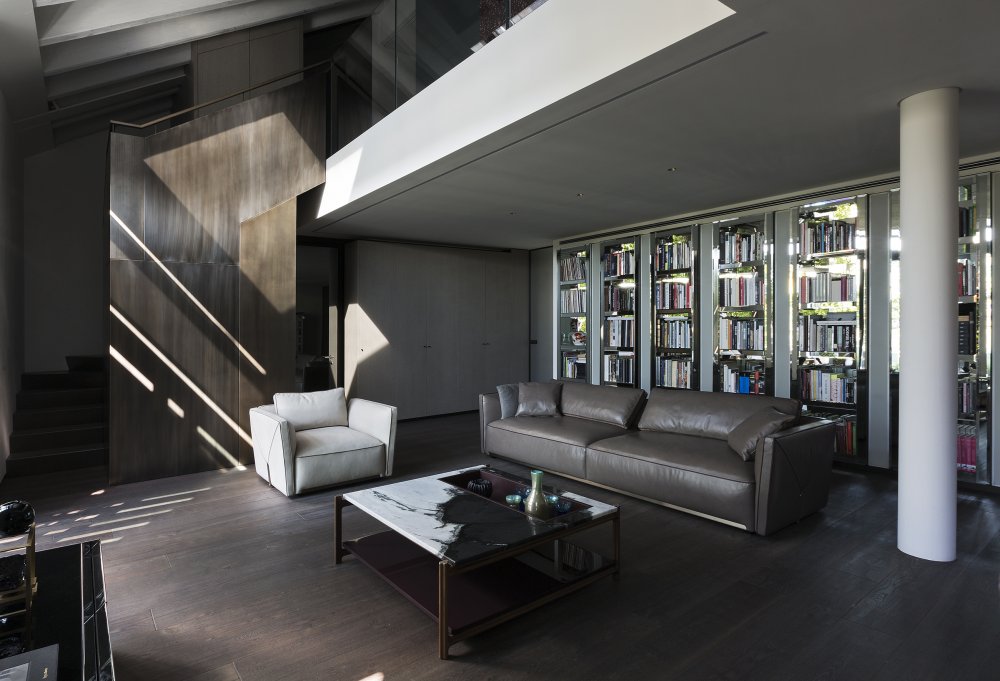 DUPLEX PENTHOUSE
Milan
2019
Photo by Max Zambelli
The study for the plan layout and the volumes has rigorously respected the lifestyle and the strong character of the owners, without any kind of limitations.
The living room is architecturally molded around two important volumes: a theater backdrop, composed by a series of library modules (Speyer by Visionnarie); an imposing staircase in metal and wood, that hides inside a shoe cabinet and closet, like a soft tech chrysalis.
The main entrance, which overlooks the living room, is invisible from inside the flat, as the door is hidden and integrated into a continuous wall cabinet in wood carpentry, giving it an elegant look.
The living room extends into a real bioclimatic metal greenhouse. The structure and the roof with adjustable blades are custom designed and produced with high technology ensuring the desired environmental comfort in all seasons.
The Day Toilet is a space with unexpected surfaces: it was born, as an evolution of a sober Deco-era powder room, from the unprecedented combination of lava stone with hand-painted artisan ceramic tiles, of naturalistic inspiration.
The kitchen/tableware room act as a neutral space between service room and living area, to which are connected with sliding etched glass and blind doors.
Upstairs two bedrooms and one master bedroom with en suite bathroom are warmed by large format slats of heat-treated oak wood and cozy exposed gray pickled wood beams.
The two bathrooms are inspired by the sober but welcoming environment of a luxury hotel spa.